Coca-Cola Beverages Sri Lanka & Eco Spindles Pvt. Ltd pioneer waste recycling with unveiling of all-new Eko Plasco Material Recovery Facility on World Environment Day 2022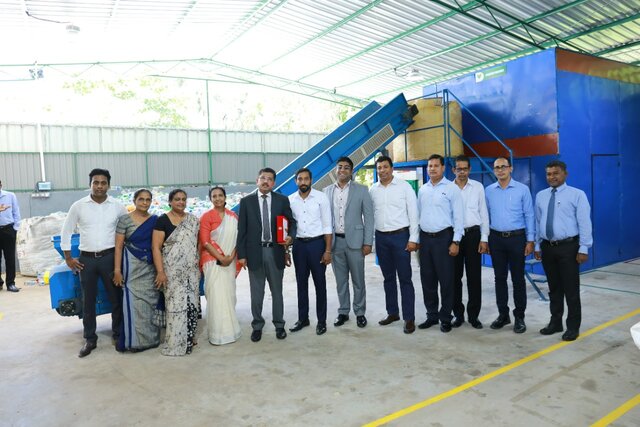 In light of World Environment Day, the all-new Eko Plasco Material Recovery Facility (MRF) was launched by Coca-Cola Beverages Sri Lanka Ltd (CCBSL) and Eco Spindles Pvt Ltd on the 8th of June 2022 in Wadduwa. The facility was opened under the auspices of Chief Guest Dr. Anil Jasinghe, Secretary to the Ministry of Environment. The MRF was introduced to support waste management, and to give back meaningful life to plastic waste through recycling, whilst helping to create awareness on responsible plastic disposal.
A MRF is a solid waste management facility that processes recyclable materials such as PET plastic and sells them to manufacturers as raw materials for the creation of new products. Plastic waste is collected via a wide bin and bag collection network, and then sent to the MRF where it is segregated and processed through machinery such as balers and crushers. The baler compresses the plastic into compact bales, which makes it easier to store and transport, while the crusher machine crushes the plastic into granules adding value to the waste prior to it being sold to recyclers.
MRF's create a positive impact on the development of a circular economy, which is a model which minimizes waste, pollution and greenhouse gas emissions and extends the useful life of products and materials. These facilities also help create auxiliary industries such as waste collection which create livelihood opportunities for surrounding communities. The Eko Plasco MRF will act as a catalyst to help educate people on household waste segregation and responsible waste disposal at key locations where plastic collection bins and bags have been established, including at schools, beaches, and other public & private institutions.
Dr. Anil Jasinghe, Secretary of the Ministry of Environment commented: "I am happy to see private sector organisations such as Coca-Cola Beverages Sri Lanka & Eco Spindles contribute significantly to the waste management infrastructure in Sri Lanka. Initiatives like the Eko Plasco MRF are of paramount importance as they complement the upcoming national voluntary Extended Producer Responsibility (EPR) initiative by the Government of Sri Lanka."
Mr. Mayank Arora, Managing Director, Coca-Cola Beverages Sri Lanka noted: "The Eko Plasco facility was opened as part of our 'Give Back Life' programme which is line with the company's global commitment towards a 'World Without Waste' with a goal to Collect and Recycle an equivalent of every bottle sold by Coca-Cola by 2030. Investing in MRFs in partnership with Eco Spindles, will greatly scale up our waste collection efforts, and align with the national voluntary EPR initiative that will be launched very soon. We are also happy to announce that we intend to establish 6 more MRF's in the near future with funding support from The Coca-Cola Foundation together with Eco Spindles and our implementing partner Janathakshan."
The facility will collect approximately 10,000kg of plastic every month via collection points and after processing, will be sent over to Eco Spindles, Sri Lanka's largest plastics recycler, whose synthetic yarn production facility is also one of the only two plants in the world with the capability to create yarn directly from flakes. Eco Spindles converts the material into yarn & monofilaments which are used to manufacture household items such as brooms, brushes, and textiles and exports these products to over 15 countries. The yarn was notably used to create the uniform recently worn by the Sri Lankan Cricket Team.
Mr. Manoj Udawatte, Chief Executive Officer of Eco Spindles Recycling shared his thoughts on the project "Partnering with CCBSL has enabled us to set up our first MRFs and strengthen the process of waste collection and recycling. The Eko Plasco facility in Wadduwa is a testament to this and we hope to open at least one MRF in every district going forward. At full capacity, these facilities will contribute to approximately 300 direct job opportunities and approximately 30,000 Kg of waste being redirected from landfills to recycling per MRF. MRFs are comprehensive facilities embodying social, environmental, and financial sustainability."
Mr. Malindu Liyanage, Managing Director of Eko Plasco shared his thoughts on the facility, "I have always wanted to give back to the planet. This venture has not only brought to light my mission in life, but also provided a means of giving back to the community by providing people job opportunities. Through the setting up of the MRF I am now able to collect several types of recyclable waste from the environment, predominantly PET and other plastics, and even metal, glass, cardboard, polythene and cans which provides good financial incentives. The support I have received from CCBSL, and Eco Spindles has been invaluable in establishing this facility, providing us with essential machinery and collection bins/bags and they continue to support us in helping us grow".
MRFs are a game changer in the nation's waste management sector as they provide significant economic benefits to Sri Lanka and livelihood opportunities. It also benefits the country greatly as the exports of material from Eco Spindles generates much needed foreign currency in the current context. Coca-Cola, Eco Spindles, and their partners will continue to support facilities like Eko Plasco in order to create a positive impact on the environment and the communities.
END
Photo Caption
Dr. Anil Jasinghe, Secretary, Ministry of Environment at the Eko Plasco Material Recovery Facility (MRF) launch with the Country Leadership team of Coca-Cola Beverages Sri Lanka and Senior Management team of Eco-Spindles