Softlogic IT joins forces with SLTC to facilitate Laptop purchases for undergraduates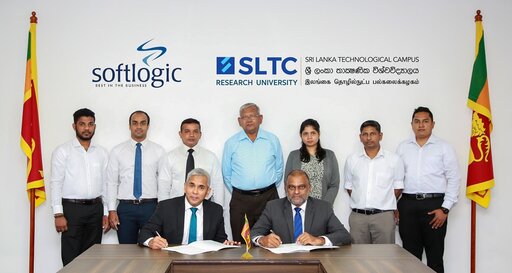 In an effort to help students adopt to digital transformation, Softlogic Information Technologies Pvt Ltd has joined forces with Sri Lanka Technological Campus (SLTC), in a pioneering initiative to make laptop purchasing dreams of undergraduates a reality.
This ground breaking partnership enables over 1000 students of the 2021 intake of SLTC to purchase a brand new laptop at a special discounted price to continue their higher education.
Commenting on the tie up, Chief Executive Officer/Director – Softlogic IT, Roshan Rassool said, "We are indeed proud to partner with SLTC to support fresh undergraduates who are stepping into higher education prospects. With this pioneering initiative, we expect to bridge the existing gaps in higher education by integrating new technology which we perceive is the need of the hour. As a socially responsible company, it is with great pleasure that we embark in this initiative to help students succeed in their higher education and achieve great milestones in life."
Digitalization has made way for the emergence of a highly sought after hybrid learning model which is embraced by top universities around the world. Today, the focus is on this highly convenient learning model that enables students to participate in both physical lectures as well as virtual lectures, deviating from the traditional learning experience. In this background, Softlogic IT-SLTC partnership will open up a world of opportunities for undergraduates to pursue their higher education aptly supported by technology.
"We are indeed happy to be partnering with Softlogic IT to empower our latest batch of undergraduates with access to laptops at discounted prices in making sure that each and every student has access to a new laptop. We are highly grateful for the support extended by Softlogic IT for the betterment of these students who hold the key for the future of the country. A laptop is indispensable for a student pursuing higher education especially today, where distance learning has come to stay for the long haul. Being in an age where technology is the key driver, partnerships of this nature bode well for the future of education." said Eng. Ranjith G. Rubasinghe, Founder President/CEO of SLTC.
Hailed as a renowned higher education provider, SLTC, a leading non-state university in Sri Lanka specialises in Technology, Engineering, Business, Computing & IT, Music, Professional studies and postgraduate studies. SLTC being the first corporate powered, research based, residential university in Sri Lanka, is equipped with state of the art facilities including laboratories, study spaces that provide a favourable environment for higher education. With the focus of building a generation of innovation and excellence, SLTC deploys cutting edge teaching methodologies to provide high quality education which is on par with industry standards. SLTC is driving the organization in a strategic mission to provide a liberal environment for research and learning of the highest caliber that enforces professional ethics and integrity, promotes diversity, encourages constructive critique, and rewards informed risk-taking to produce well-rounded graduates who are capable of providing the leadership necessary.
A subsidiary of Softlogic Holdings, Softlogic Information Technologies is a pioneer in IT and technology solutions and is the leading importer of ICT products to Sri Lanka. In the last 28 years, the company has been duly recognized for its outstanding performances at several awards events. Today, Softlogic IT has transformed to be the preferred IT partner for corporates in Sri Lanka and is committed to provide world class ICT solutions in education, telecom, banking & finance, manufacturing and e-government areas. As a customer centric entity, Softlogic IT is geared to cater to the ICT needs of customers through its strong regional support services.
Photo Caption
Seated from Left: Chief Executive Officer/ Director of Softlogic IT Roshan Rassool, Founder President/CEO of SLTC Ranjith Rubasinghe signing the MoU in the presence of members from both parties