UNDP and Hatch's CONNECT Program: A Beacon of Hope for Sri Lanka's Future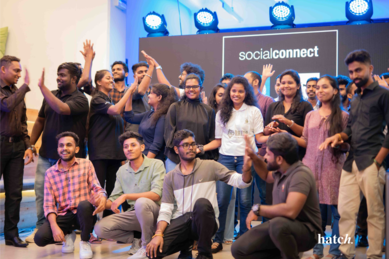 In an inspiring display of ingenuity and determination, Hatch in partnership with the United Nations Development Programme (UNDP) in Sri Lanka, showcased a remarkable array of innovative startups at the much-anticipated CONNECT Demo Day. With passion and resilience, 18 exceptional startups took center stage, illuminating a path toward a brighter and more sustainable future for the nation.
The event, held on July 20th in Colombo, witnessed a display of innovations that aim to address pressing needs across vital sectors such as Sustainable Food Chains, Renewable Energy, Health Tech, and EdTech.
With a strong commitment to this vision, these promising entrepreneurs have emerged as true architects of progress, dedicating themselves to steering Sri Lanka toward prosperity.
Niresh Ratnagopal, the CONNECT program manager at Hatch, expressed the gravity of entrepreneurship in Sri Lanka, noting the remarkable resilience required for success. Launched in collaboration with UNDP, CONNECT offers these bright minds a platform to not only showcase their innovations but also receive vital support to realize their dreams. The event was a testament to the entrepreneurial spirit that thrives in Sri Lanka, as pioneering startups from various sectors wowed the audience with their pioneering solutions.
Azusa Kubota, Resident Representative of UNDP in Sri Lanka stated "In this critical phase of the country's economy, empowering the next generation is of utmost importance. It is, therefore, essential for us to gather our resources and support young entrepreneurs in any way possible. By doing this, we not only assist the entrepreneurs themselves but also pave the way for future job opportunities to be created."
At the heart of this initiative lies a profound desire to unite and empower entrepreneurs and small and medium-sized enterprises (SMEs) from all corners of the nation. The CONNECT program has proved to be a lifeline, providing these enterprising minds with a prominent stage to present their transformative businesses.
Each of these startups is on a mission to tackle some of the most daunting challenges facing Sri Lanka today.
Among the startups was 'Cultivision,' whose transformative service seeks to bridge the gap between cutting-edge technology and rural farmers. By encouraging the adoption of advanced agricultural practices, Cultivision aims to boost crop yields and democratize technology's benefits across sectors, making a lasting impact on Sri Lanka's agricultural landscape.
Speaking at Demo Day, Shaja Mahmood, the Founder of Cultivision stated; 'Despite farming being a crucial component of Sri Lanka's economy, a significant number of farmers, particularly those in rural regions, possess limited technological know-how. Cultivision has assumed the responsibility of introducing and educating these farmers on the effective use of technology in their agricultural endeavors. Our aim is to empower these farmers, foster their local communities' growth, and ultimately contribute to the overall development of the country.
'MCQ Med,' another remarkable startup, has taken up the mantle of supporting medical students in their exam preparation and success. Addressing the challenges posed by traditional paperback study materials, MCQ Med strives to enhance the accessibility of medical education for all individuals in the country, furthering the cause of healthcare excellence.
Meanwhile, 'Designer Dent' showcased its trailblazing utilization of 3D printing in the healthcare sector, with a particular focus on dentistry and export-oriented operations. Promising affordability and accuracy in healthcare services, the startup aspires to make a significant impact on Sri Lanka's healthcare landscape.
At Demo Day, 'Ray Engineering' unveiled its revolutionary solutions for Electric Vehicle (EV) owners. They offer two affordable charging options for EVs and a user-friendly 'Boostnet' app that locates nearby charging stations and manages accounts seamlessly, benefiting users and station owners alike. Ray Engineering aims to make electric vehicle ownership practical and affordable for the people of Sri Lanka.
The CONNECT program and Demo Day have not only provided a platform for these visionary enterprises to thrive but have also raised awareness about the immense potential of Sri Lankan entrepreneurs. Engaging with an enthusiastic audience, these startups have been given a chance to shine, opening doors to growth and success.
In a nation where challenges abound, these startups have emerged as beacons of hope, shining a light on innovative solutions to directly address the pressing needs of Sri Lanka. As they chart the course towards a brighter future, the promise of progress and prosperity looms large, driven by the relentless spirit of Sri Lankan entrepreneurship.
ENDS
Photo Captions: