Unity Systems Unveils a State-of-the-Art Store in Bambalapitya
Unity Systems PVT Ltd, a leading authorized IT and computer retail store in Sri Lanka, is thrilled to announce the grand opening of its brand-new store in Bambalapitya. This exciting development comes as a result of the company's ongoing commitment to providing exceptional products and services to its valued customers. The new store, previously located at Unity Plaza, promises an unparalleled shopping experience and boasts an after-sales service centre for added convenience.
With a remarkable array of cutting-edge technology products, Unity Systems is dedicated to meeting the diverse needs of computer enthusiasts, professionals, and everyday users alike. At the all-new Bambalapitya outlet, customers can explore an extensive selection of notebooks, branded PCs, monitors, printers, and professional accessories that enhance the computer experience.
Established in 2004, Unity Systems has garnered a well-deserved reputation as the go-to destination for all things computer-related. As an authorized reselling partner for industry giants such as ASUS, DELL, HP, Acer, Lenovo, and Microsoft, Unity Systems guarantees the authenticity and quality of each product it offers. This esteemed partnership allows the store to provide customers with the latest and most advanced technology solutions available on the market. Unity Systems also facilitates corporate businesses and tender based projects as well.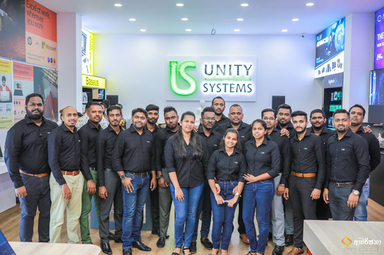 Mr. D.G Wasantha Dinuwan, Director of Unity Systems said, "We are thrilled to bring Unity Systems to Bambalapitya. Our new store is a testament to our ongoing commitment to delivering top-notch products and services to our customers. With our extensive range of computer equipment and supplies, we are confident that we have the perfect solution to meet every individual's unique needs. Our knowledgeable and friendly staff are always ready to assist customers in finding the ideal equipment at a competitive price."
Unity Systems prides itself on its comprehensive product offerings and customer-centric approach. Whether you are a leading professional or an amateur computer user, you can rely on the expert staff at Unity Systems to provide personalized guidance and assistance. With their in-depth knowledge and experience of over 10 years, the staff is dedicated to helping customers make informed decisions and ensuring that they find the perfect technology solutions to suit their requirements.
The opening of the new Unity Systems store in Bambalapitya is an exciting milestone for the company and its customers. Unity Systems invites everyone to visit the store and experience the exceptional shopping experience it has to offer. Located at No. 83 Galle road, Colombo 04 the new outlet is ready to welcome technology enthusiasts, professionals, and all computer users seeking the best products and services in the industry.