All Island Dairy Association holds 4th Annual General Meeting

The fourth Annual General Meeting of the All Island Dairy Association (AIDA) was recently held at the Ceylon Chamber of Commerce premises in Colombo. The AIDA which is affiliated with the Ceylon Chamber of Commerce, and plays a pivotal role in representing the local dairy industry by fostering agreements, aligning goals, and mobilising the industry. Additionally, the AIDA advocates with policymakers on crucial matters, while also working on streamlining objectives.
The AIDA encourages its wide array of dairy manufacturers and services providers to actively adhere to all industry standards. The AIDA also fosters healthy competition, drives advancement in product and service offerings for the overall betterment of the entire dairy industry.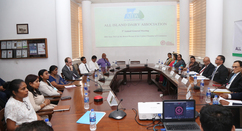 Mr. Binesh Pannawala, President of AIDA said, "As AIDA successfully executed a diverse range of policy initiatives and knowledge transfer activities through webinars and virtual interactive sessions last year, we expanded our network with the commercial sector and actively contributed to the government's policy discussions on dairy sector development. Looking back at 2022, our commitment to the sustainable growth of the dairy industry remains unwavering. With favourable policies, economic growth, increased consumer demand, and strong foundational support, we are poised to drive the industry forward."
The newly appointed office bearers for the year 2023 includes 2nd year President – Mr. Binesh Pannawala, Watawala Plantations PLC, Producers and Collectors – Mr. Suneth Bandara, Lanka Dairies Pvt Ltd., Manufactures and Processes – Dr. Nelum Vithana, Cargills Ceylon PLC, Importers – Mr. Asoka Bandara, Maliban Group, Service Providers – Mr. Lawrence Chan, Ceylon Agro Industries Limited, and Treasurer – Mr. R.M.K.G Rajapaksha, Hypromac Engineering Services.
The newly appointed Executive Committee for the year 2023 are Dr. Keerthi Gunasekara, Mr. Mohamed Imtiaz, Mr. Saman Perera, Mr. Sanjaya Jayasinghe, Consultant/GM – Mr. A.C.H Munaweera and Secretariat – Ms. Shehara De Silva.