DIMO launches Sri Lanka's first and only CO2 absorbing smart coating GRAPHENSTONE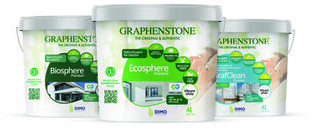 DIMO, a leading diversified conglomerate in Sri Lanka, has transformed the local decorative paint industry landscape by unveiling GRAPHENSTONE, the first and only CO2 absorbing premium smart coating (paint) in Sri Lanka.
GRAPHENSTONE is a leading ecological paint formulated in Spain that combines lime and graphene technology in a unique formula which is called GRAPHENSTONE Innovative Technology. Lime, a natural and completely artisanal material, is complemented by graphene materials that improve its strength and flexibility. This perfect blend of tradition, innovation and technology enable the creation of premium, environmental-friendly green paints of the highest quality, with a longer life and lower maintenance, which translates into considerable savings.
Vijitha Bandara, Executive Director of DIMO, who also oversees the retail business of the Group, commented, "DIMO's strategic approach has continually focused on adding sustainable, innovative products and services to our expanding product portfolio. Introducing the first and only smart coating (paint) in Sri Lanka manifests DIMO's unwavering commitment towards sustainability through our business approach. This also reflects our continuous efforts for fuelling dreams and aspirations of the communities we serve, by facilitating environmental sustainability. Together with the perfect partner GRAPHENSTONE, the world's most Green Certified brand, we introduce this innovative paint to Sri Lanka."
DIMO's GRAPHENSTONE range consists of Exterior and Interior coatings. Under the Interior range, DIMO has introduced Ecosphere and GrafClean Ag+ to the local market. In the Exterior range, DIMO has introduced Biosphere while in the Undercoating segment, Primer Plus has been introduced with high Ph lime-based primer, free of micro-plastics which absorbs CO2.
GRAPHENSTONE GrafClean Ag+ is a premium interior paint with Low Sheen finish, formulated with silver ion (Ag+), providing anti-microbial properties (Bacteria, Fungai & Covid-19 virus) that maintain the surface protection up to 2 years, is free of toxic substances and is highly breathable. This is ideally-suited for people suffering from chemical intolerance and respiratory issues including asthma. GRAPHENSTONE is highly recommended for indoor enclosures, schools, hospitals, nurseries and hotels.
GRAPHENSTONE Ecosphere and Biosphere are the most advanced solutions of ecological and natural paint in the market. A mere 45 Litres of GRAPHENSTONE paint removes up to 14.40kg of CO2, an amount equivalent to what is absorbed by an adult tree weighing 250kg. While improving the breathability of the home, it also enhances hardness and strength of the walls and living spaces. It also improves air quality of indoor environments, prevents mould / fungi, bacteria and virus growth.
Compared to today's conventional paints, GRAPHENSTONE is built on superior Nano Graphene and lime technology which gives unique value additions to the consumer and delivers a host of features which keeps them safe from harmful chemical exposure. Its unique features also include being free of biocide, being free of Volatile Organic Content (VOC), high flexibility, fire retardant, high SRI value (high solar rays reflecting capability), insect repellent, and being free of micro plastics.
GRAPHENSTONE is the world's most certified green paint company. GRAPHENSTONE's impressive haul of globally-recognised green certifications include being Singapore Green Building Council certified, Sensitive Choice Certification by Asthma Council of Australia & New Zealand, Global Green Tag's Green Rate certification and the Global Green Tag Product Health Declaration™ PHD.
ENDS
Image Caption
The unparalleled range of eco-friendly smart coatings offered by GRAPHENSTONE
About DIMO
Diesel & Motor Engineering PLC (DIMO) is involved in a number of related fields and represents many prestigious principals – Mercedes-Benz, Siemens, Jeep, KSB, TATA Motors, MTU, Komatsu, Michelin, Zeiss, MRF, Bomag, Claas, TK Elevator, Mahindra Tractors and Stanley to name a few. From a company known for vehicles, DIMO today has diversified into many areas. Medical Engineering, Building Management Systems and Services, Power Generation and Distribution, Material Handling, Storage and Warehouse solutions, Power Tools, Agricultural Equipment, Total Lighting Solutions, Power systems and Generators, Refrigeration, Ship Repairing and Driver Training Courses are some of the areas into which DIMO has entered during the past few decades. DIMO has also diversified into fertilizer and agriculture input market. DIMO successfully entered into overseas markets in the Maldives and Myanmar, by expanding their Marine and General Engineering services through partnerships in the Maldives and their automobiles and automobile servicing segments into Myanmar. DIMO is currently working to consolidate on current overseas operations with new markets in East Africa.