Clogard's Mobile Dental Unit sets out to encourage good oral hygiene amongst children and families across the country.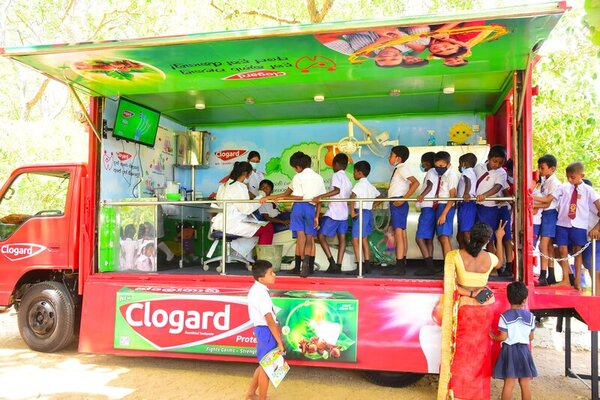 Clogard, one of Sri Lanka's most trusted oral care brands, has revitalised its Mobile Dental Clinic to promote the importance of oral health in children. The dental clinic and awareness campaign was conducted in conjunction with the Ministry of Health and provided free dental screenings and clean-ups for school children around the country.
Recently, Clogard's Mobile Dental Clinic conducted its awareness campaign at the Nallur Festival in Jaffna. The clinic provided a fun and engaging awareness session conducted by Dental Therapists from the Ministry of Health.
Upon completion of their screening and clean-up, the children received exciting gifts from the Clogard team, to help remind them of the importance of maintaining good oral hygiene.
As an added bonus, Clogard's Chooty Lena is also on hand to play with and entertain the children both before and after the children have their sessions in the clinic. While entertaining the children, Chooty Lena also does his part to help encourage the children to maintain good oral hygiene.
Derrick Anthony, General Manager, Marketing at Hemas Consumer Brands on the programme. "We have been conducting campaigns similar to this across the country for years, and we are honoured to be able to bring the Clogard Mobile Dental Clinic back after the pause which was brought about by the pandemic. As a trusted brand, it is imperative that we conduct these initiatives and promote the best oral care practices to strive toward making Sri Lanka a cavity-free nation.
ENDS
Photo Caption- The Clogard Mobile Dental Clinic at Usagala Gamunu Mahavidyalaya, Meegalewa