Janashakthi Life wins dual honours at Insurance Asia Awards 2022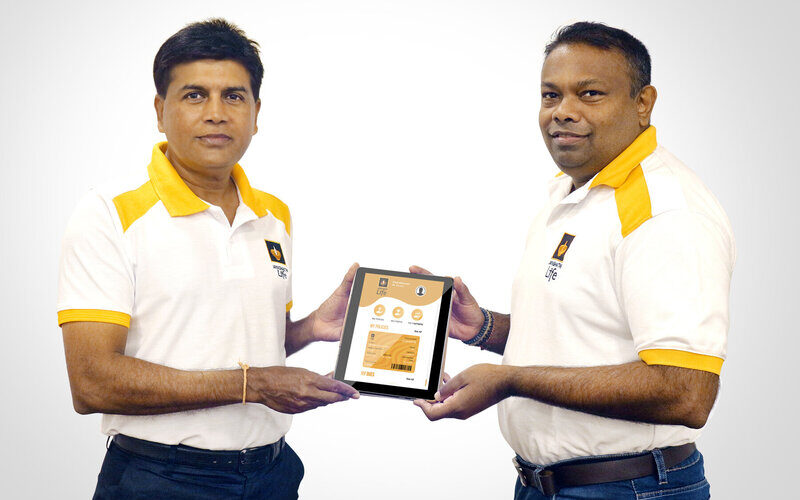 Janashakthi Life has been globally recognised as the Domestic Insurer of the Year and Janashakthi Life Mobile App has been awarded as the Mobile App of the Year by Insurance Asia Awards 2022.
The awards ceremony was organized by Insurance Asia, a renowned publication devoted to insurance companies, investors, professionals, and policymakers and the Insurance Asia Awards are known as Asia Pacific's most acclaimed awards programme for the most outstanding insurance firms in the region. This credential is widely regarded as one of the most prestigious recognitions in the Insurance Industry and includes a rigorous screening and selection process.
Commenting on this achievement, Director/CEO of Janashakthi Insurance PLC, Ravi Liyanagesaid: "This recognition reaffirms our commitment to serve our policyholders by delivering superior consumer value and engagement and upkeeping our purpose. It also says much about the current dynamism as well as the future potential to continue serving our customers with industry-best solutions. This is also a testament to our continued commitment and the ability of our Lion Force who have made an extraordinary contribution to the organization's growth amidst a challenging year."
Janashakthi Life also won the award for the "Mobile App of the Year" recognizing the organization's digital transformation journey and providing innovative financial solutions to all interfaces across the organization including exceptional customer interface throughout the journey of policyholders from onboarding, policy servicing and claims servicing.
"Janashakthi Life is pioneering an innovation-driven change and adopting a digital transformation strategy to simplify the processes with increased accessibility in the life insurance sector. We strongly believe in the power of digitalization to deliver service excellence and convenience. This is a recognition of our team's hard work, commitment and dedication to consistently pursue the highest standards whilst recognizing the evolving needs of our policyholders," commented K. V. Kuganathan, Group Chief Information Officer of Janashakthi Group.
Staying true to its corporate purpose of uplifting lives and empowering dreams, Janashakthi Life has always strived to deliver greater value to all its stakeholders in an ethical and a transparent manner. On the customer front, the insurer brings this to life through its path breaking insurance solutions and services that cater to their evolving needs at every stage of their lives. Extending this purpose to its engagement with its employees, Janashakthi Life has always sought to offer team members a highly supportive work environment that empowers them to grow and realize their dreams and aspirations.
Janashakthi Insurance PLC has stormed the TOP 10 brand rankings as one of the fastest growing Sri Lankan brands in the recent Brand Finance report on Sri Lanka's top 100 most valuable and strongest brands. Recording an impressive brand value growth in 2022, the brand was also listed as one of the 'TOP 10 Fastest Growing Sri Lankan Brands' and is the only insurance brand to be listed among the TOP 10 honour roll with a rating of A+ and a Brand Strength Index (BSI) score of 569.
The leading insurer also bagged the award for the 'Best Strategies for Insurance Spreading' for the year 2021 at the recently held 3rd ICC Emerging Asia Insurance Awards 2021, in recognition of its contribution to transform insurance industries of the region with industry-best solutions.
With a proven track record and performance driven culture of the Janashakthi Lion force, the organization has successfully produced over 100 MDRT achievers for the year 2021 on par with global standards. In recognition of its commitment to fostering a positive value driven culture while empowering its employees, Janashakthi Insurance PLC has been recognized as a Great Workplace in Sri Lanka for its exceptional and resilient workplace culture. Over a span of 27 years, Janashakthi Life PLC has continued to revolutionize the insurance industry and journeyed forward to become a force to reckon with. Its island-wide network of 75+ branches enable people from all walks of life to access its unique insurance solutions.
Image caption:
(Left to Right) Ravi Liyanage – Director/ Chief Executive Officer, Janashakthi Insurance PLC and K V Kuganathan – Group Chief Information Officer, Janashakthi Group
About Janashakthi Insurance PLC
Founded in 1994 as a Life Insurance company, Janashakthi Insurance PLC made its mark in the industry as an innovator and household name over a span of over 27 years. Janashakthi Life has a strong presence across the island, with an expanding Life Insurance network of over 75 branches and a dedicated call centre. In line with its purpose of uplifting lives and empowering dreams, Janashakthi Life remains committed to becoming a leader in the Life Insurance industry by delivering a service beyond Insurance to its customers and stakeholders. Janashakthi Insurance PLC, is a member of the Janashakthi Group that operates in the Insurance, Finance, Investment and Real estate sectors.
The Board of Directors of Janashakthi Insurance PLC comprises of Prakash Schaffter, Ravi Liyanage, Nathan Sivagananathan, Avindra Rodrigo, Mahela Jayawardena, Warini De Costa, Dinesh Schaffter, Annika Senanayake, Sivakrishnarajah Renganathan and Dr. Nishan de Mel.