Anton continues empowering employees with next stage of 'Hithawathkamata Multhena'project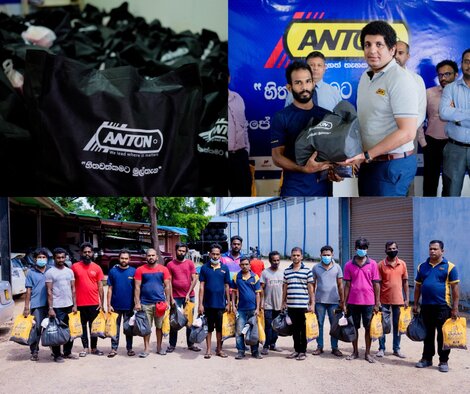 Anton, a 100% Sri Lankan manufacturer of household solutions for over 60 years, recently launched the next stage of the 'Hithawathkamata Multhena' project. As an extension of support to navigate through the current situation faced by the country, Anton distributed dry food rations to all employees to help empower them and motivate them to overcome the continuous challenges. The project is one of many that Anton has initiated to support its employees over the years.
K.T.D. Wijesekara, an employee of Anton commented on the 'Hithawathkamata Multhena' project: "I am so grateful that the company has constantly supported and guided us during these challenging times. To be a part of Anton, which has always supported and encouraged us to keep pushing through, is a privilege in itself, especially now, and given the situation that the country is facing, the support we as employees have gotten is absolutely invaluable."
Anton introduced the 'Hithawathkamata Multhena' project in 2017 and the recent project were done with the long-term vision of empowering employees and to reinforce the fact that they are an integral part of the organisation. The company understands that there has been a growing need to support the wellbeing of their employees and the much-needed supply of dry food rations is one of many initiatives implemented to support them.
Mr. Lahiru Jayasinghe, Chief Operating Officer of Anton, commented on the project: "The 'Hithawathkamata Multhena' project is one of many ways we give back to and support our employees. Distributing dry rations and other essentials to our employees is a means of empowering them and also supporting their families. During these trying times, it is imperative that we do all that we can to help each other so that we can overcome the challenges we all face as a nation today."
Since its inception, Anton has firmly believed that its employees have been the driving force behind the company's success, and therefore took it upon themselves with the'Hithawathkamata Multhena' project and others similar projects have been implemented to support and help empower them to face and overcome the challenges that lay ahead of them.
END