The Move to Close CSE was to Allow Investors to Grasp the Economic Changes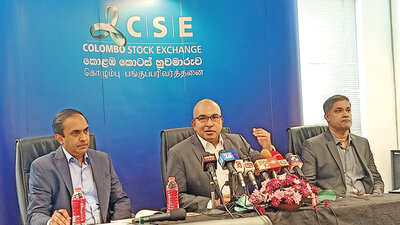 Starting from April 18th the closure of the Colombo Stock Exchange (CSE) for five business days was a short-term move and was put in place to fix many issues and permit investors to study and comprehend the economic changes that were applied by the Central Bank last Tuesday (12) after the new governor Dr. Nandalal Weerasinghe took office and also permitting investors to understand the current situation in the country.
CSE Chairman Dumith Fernando said, "Several other stakeholders of the securities market which include the Colombo Stock Brokers Association have also looked for the short-term closure of the market on the same grounds. This is not the first time that the market was closed and it happened sometime back during the lockdowns and other times as well. The Russian Stock Market was closed for one month and opened last week because of the Ukraine war and also the New York Stock Market was shut down several times in the history and it also happened after the 9-11 attacks."
He further stated, "The market witnessed 'force selling' because investors didn't know what was taking place on the economic front and this closure will also help as a 'cooling period' and let investors particularly the bigger ' middle-income investors' (which grew from 15,000 two years ago to 62,000 last year) to understand the latest economic situation. The SEC has carefully thought about the grounds that have been mentioned by them and has assessed the impact the current situation in the country could have on the stock market, specifically the capability to handle a well-organized and fair market for trading in securities. We also wanted to bring back long-term stability to the market and stop 'panic' setting into it as investors now have time to get better details of changes that are taking place on the economic side. We also take this time to bring in new regulations to bring about more stability to the markets. There is no political influence made towards commencing this short-term market closure."
Rajeeva Bandaranaike, Chief Executive Officer at Colombo Stock Exchange stated, "It is the CSE view that it would be in the best interests and also other market participants if they are given the chance to have more clarity and grasp of the economic state currently happening, in order for them to make knowledgeable investment decisions."
Dilshan Wirasekara, Director at CSE said, "There was an intense talk before this closure among us and we all concurred that this was the ideal cause of action towards the market improvement."
Image – CSE Chairman Dumith Fernando, CEO Rajeeva Bandaranaike, and Director Dilshan Wirasekara.