Singer Exclusive Distributor for Imou Wi-Fi cameras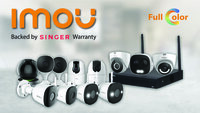 Singer Sri Lanka, the country's premier consumer durables retailer joins forces with Imou to become the sole distributor of its comprehensive and smart IoT (Internet of Things) security solutions – including CCTV cameras, smart alarm systems and much more – bringing smart, secure and simple security solutions to Sri Lanka.
Imou serves global IoT users with a "3-in-1" business system encompassing Imou Cloud, smart devices and intelligent technologies. Designed for homes and small and medium-sized businesses (SMBs), Imou provides comprehensive smart IoT solutions for different scenarios. Its open cloud platform allows third-party integrations, which makes Imou perfect for building smart IoT ecosystems, creating greater value for partners and users.
"We are elated to be the exclusive distributor for Imou's innovative security solutions in Sri Lanka. Imou is a brand that is renowned for its significant technological breakthroughs and is recognised by users worldwide, making it one of the most trusted partners in the surveillance industry. Through this partnership, we hope to provide every Sri Lankan the opportunity to build a simple, secure and smart life," stated Mahesh Wijewardene, Chief Executive Officer of Singer Sri Lanka.
Imou offers a wide range of smart solutions for Indoor Monitoring, Outdoor Monitoring, Smart Access, and Whole-Store Management – encompassing WiFi cameras, PoE (Power over Ethernet) cameras, smart alarm systems, wireless network recorders, smart locks and doorbells, etc. All products are plug and play devices, thereby eliminating the hassle of cabling and offering ultimate portability and convenience.
Singer Sri Lanka's current Imou portfolio includes security camera models and alarm systems with WiFi capabilities and IoT solutions. The company seeks to expand its inventory of wireless products and solutions under the Imou brand – with the inclusion of smart locks and doorbells among others – to cater to the country's wireless security needs. The goal of this partnership is to become number one in the field of wireless security by 2022.
Offering a wide range of first-class local and international brands to its growing consumer base across the country, Singer Sri Lanka is driven by the mission to improve quality of life by providing comforts, services and convenience at great value! By means of this fantastic new partnership, Imou security products and solutions are now available at Singer, Singer Mega showrooms, on www.singer.lk, and dealers island-wide.
###