Uga earns prestigious Travelife Gold Certification for sustainability in tourism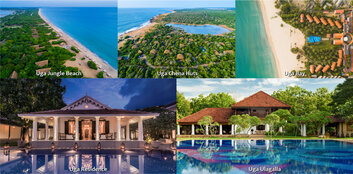 Uga, a renowned boutique property chain offering luxurious accommodations has been awarded with the highly sought after Travelife Gold certification for its pioneering efforts to promote sustainability in tourism.
The five boutique properties owned by Uga: Uga Ulagalla, Uga Bay, Uga Jungle Beach, Uga Residence and Uga Chena Huts are recipients of the Travelife Gold certification which was awarded after an independent audit. Travelife Gold certification is the only recognition earmarked for best practices in sustainability in the tourism industry.
Presented by the internationally recognized accommodation sustainability program- Travelife, the Certification is a testament to Uga's continuous efforts in recycling, efficient energy, water and waste management, green initiatives, nature conservation and more. Committed to promote sustainability in tourism, Travelife assesses a range of criteria before awarding the Gold certification among which hotels are required to attain high standards in human rights, labour, community management and environmental impact in order to receive this prestigious certification.
Long known for its commitment to sustainability, Uga has been pioneering several initiatives to minimise environmental impact, improve economic conditions of people living in and around the boutiques, protect human rights and fair labour practices and safeguard animal welfare and bio-diversity for future generations- all of which validated Uga as the receiver of the prestigious Travel Life Gold Certification.
Commenting on the landmark achievement, Priyanjith Weerasooria, Managing Director – Uga Escapes Management (pvt) Ltd said, "We are indeed proud to announce that all our hotels, Uga Ulagalla, Uga Bay, Uga Jungle Beach, Uga Residence and Uga Chena Huts have received the most-sought after Travelife Gold certification in appreciation of our committed efforts to promote sustainability in tourism. At Uga, we are highly inclined to sustainability initiatives as we believe that luxury and sustainability are closely connected. This certification would have definitely not been possible without the contribution of the entire team at Uga where we endeavour to provide a remarkable experience for all our guests and we will continue to prioritize sustainability at the heart of everything we do."
Uga is a fully owned subsidiary of the Finco Holdings. Uga comprises of Uga Ulagalla in Anuradhapura, Jungle Beach in Trincomalee, Uga Bay in Passikudah, Chena Huts in Yala and Uga Residence in Colombo. Uga operates as a home grown luxury brand which is committed to preserve natural splendour and indigenous culture whilst providing a unique accommodation experience.
Image Caption;
Image 1- The Properties