2021 HUAWEI Women Developers Summit: Her Contributions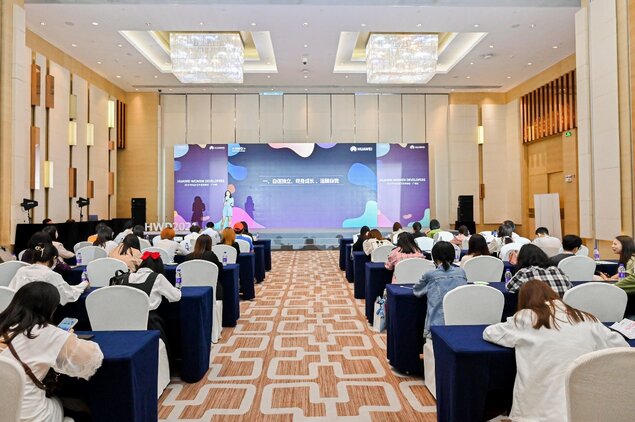 HUAWEI Women Developers Summit • Guangzhou was successfully closed recently, in which women from different fields and at different career development stages joined together and showed their empowerment. At the summit, several outstanding women representatives from science and technology were invited to share their technical knowledge, work experience, and personal stories, aiming to encourage more women to play a valuable role in science and technology in an active way.
HUAWEI Women Developers (HWD), the holder of this summit, empowers women developers to create world-changing apps and tools and encourages more women to join in with technological innovation by providing them with more resources, opportunities, and platforms for learning, communication, and self-expression, with the goal of building a more multiple ecosystem.
There are still many spaces and opportunities for women to develop themselves in science and technology. To eliminate the digital gender gap, Huawei has launched digital technology enablement programs for women in Ireland, Argentina, Bangladesh, Kenya, South Africa, and other countries or regions. The Operations Director of Huawei Consumer Cloud Service Developer Alliance gave a speech at the summit in which she said: "We really hope that more women can play a leading role in technological innovation with their own talents, values, and strengths." As such, HWD will continuously provide more opportunities and support for women in tech.
Tang Wenjie, co-founder of Ladies Who Tech, participated in the topic Tech Has No Gender. She put forward her belief that the development of science and technology requires teams with gender diversity and more inclusiveness. Faced with existing gender stereotypes and strong prejudices, women need to be more courageous in designing and creating technological or digital products.
In the era of women's startups, how women in tech balance the challenges and difficulties when starting up with a firm yet positive attitude has gained a lot of attention. Liu Yi, the co-founder of QIchat, encouraged women in tech to innovate and promote the advancement of science and technology by sharing her own experiences in the affordable and universal education domain.
Both the Product Director of HUAWEI Ads and User Experience Designer of Huawei 2012 Laboratories also discussed how women developers play a more important role in cross-technology fields from the perspectives of business thinking and technical practice. They insisted that women should attempt to make more contributions to the technology industry in different ways with an uncompromising and confident spirit.
Furthermore, Huawei aims to encourage more women students to take part in technological work and realize their own values. Chen Tianxin, a GIS graduate student in Nanjing University, shared her development experience in scientific research. And as a newcomer to the technology industry, she called on more women students to devote themselves to technology to create infinite possibilities with their courage and enthusiasm.
In the future, HWD will be committed to empowering women to improve their professional skills and specify career plans by providing them with course training, technical innovation salons, and practice scenarios, encouraging more communication between women developers through various online and offline activities, and enabling them to share knowledge about technology and professional experience, exchange stories and achievements, and showcase women empowerment by providing them with a platform.
HWD program is now open to women developers from around the world. For more details, please visit https://developer.huawei.com/consumer/eshen/programs/hwd and click Join us to apply.