FINCO TRADING launches EGGER PRO Flooring Collection 2021+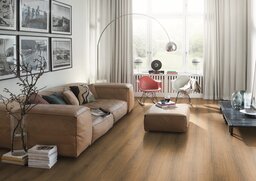 Finco Trading (Pvt) Limited, a member of Finco Holdings has introduced, EGGER Laminated flooring 2021 collection to Sri Lankan flooring market. EGGER is the latest addition to Finco's luxury living solutions brand portfolio which includes Häcker, BOSCH, De Dietrich, Brandt, KOHLER. The German based EGGER has a strong market base in 124 countries in the world.
Be it for Living and working spaces, a private retreat and a business with public traffic: the perfect basis for all this is flooring from the EGGER PRO Flooring Collection 2021+.
EGGER offers its customers three different product categories for different applications and requirements in the PRO Flooring Collection 2021+. From Comfort Flooring, characterised by its pleasant feel and acoustics, to the popular all-round Laminate Flooring, which is also available as water-resistant Laminate Flooring Aqua+, to the water-resistant and robust Design Flooring GreenTec, you will find the right wood-based flooring solution at EGGER.
A benefit of the new EGGER PRO Flooring Collection 2021+ for specialist distributor customers is the high degree of individualisation and flexibility. This allows EGGER specialist partners to create their own customised product range. "This concept has been well received by our customers. They appreciate the opportunities it opens up for them," says Maria Nehring, Head of Category Marketing EGGER Flooring.
What EGGER customers have always appreciated is the company's design and consulting expertise. In the new Flooring Collection, EGGER offers a comprehensive range of decors that are well thought-out, along with perfectly coordinated decor and product packages. EGGER once again offers the right product for all requirements and styles. Maria Nehring explains: "Our mission does not end with the offer of beautiful decors. We want to support our customers in their selection with our expertise and open up our 'Ideas for Life' to them".
EGGER is focusing on a consistent profile strategy and has converted all products to the flexible CLIC it! Installation system. Jörg Hüls, Head of Product Management, explains: "Our CLIC it! System is easy to use. This means that we leave it up to the installer to choose the preferred installation method. Market tests have shown a high level of customer acceptance". This profile system has yet another advantage; in the ingenious interplay of surface, core board and profile, Design Flooring GreenTec and Aqua+ laminates achieve a water resistance of up to 72 hours. The Tirolean wood-based material manufacturer once again demonstrates today's wide range of possible applications for wood-based floors that are sustainably produced.
The company also demonstrates foresight in the design of the preview and launch events. Due to the ongoing situation regarding the Covid-19 pandemic, EGGER is offering innovative solutions to present the new collection; thus, the company effectively optimises the use of digital tools to present the collection and accompanying tools and services, in addition to traditional events on site. EGGER utilises green room technology and 360-degree showroom tours to present innovative products and services, bringing numerous advantages of the new collections to customers in an interactive way. Specialist visitors to the showroom can expect to be transported into EGGER's decor worlds and discover the latest information on the technical and functional features of the products, as well as the presentation of EGGER PRO marketing tools, point-of-sales modules as well as sales and advisory support services from our experts. All Egger and other brands of Finco are now available to explore at No 55, Iceland Building, Galle Road, Colombo 03.
About EGGER
The family company founded in 1961 employs around 10,100 people. In 20 plants across the world, they produce an extensive product range of wood-based materials (chipboard, OSB, and MDF board) as well as timber. The company generated a turnover of EUR 2.83 billion in the 2019/20 financial year. EGGER has global customers in the furniture industry, wood construction and flooring retail, as well as DIY markets. EGGER products are found in countless areas of private and public life, including kitchens, bathrooms, offices, living rooms and bedrooms. EGGER is a full-range supplier for the furniture, interior design, wood construction and wood-based flooring (laminate, cork and design flooring) industries.
Photo Caption
Image 1 – EGGER Flooring enriching the look and feel of the room