Pelwatte Products hailed for its rich, creamy flavour amongst the culinary experts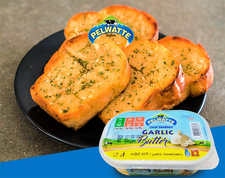 Pelwatte Dairy, the renowned dairy producer of Sri Lanka has been commended by the bakery and culinary industry experts who commends its rich flavour and creamy texture. The flavour and texture of Pelwatte Products both enhance the taste of the bakery products of the premier bakery product ranges.
"The Fab has been using the products of Pelwatte for 5 years now and we are very much happy about the quality of the products. We expect to continue this partnership. The quality of the products are maintained for several years without compromise," stated Prabhath Gamalathge, Supply Chain Manager, Fab Foods (Pvt) Ltd. commenting on their long standing partnership with Pelwatte and its added value to their bakery range.
Pelwatte's extensive product range is used in kitchens of many leading star hotels.  Hotel Galadari and Hotel Jetwing Blue, among the others. Amongst the product ranges that are supplied to the hospitality industry, Pelwatte Ghee is used to prepare main courses from Thai, Indian, Indonesian, Middle Eastern and Malaysian cuisines. This shows the versatility of the product.
Pelwatte Butter is used in the bakery products including cakes. Pelwatte butter is considered   natural due to many reasons; one of them being that the butter is made from the fat in fresh milk with no added preservatives. Fresh milk contains about 4-5 % fat and the process of butter production tends to increase the fat percentage to 82% to 84%; so in order to control the fat percentage  a standardisation process is used which is also another reason as to why Pelwatte Butter is considered all-natural. Another favourite in amongst the hospitality industry is the Pelwatte Fresh Cream. It is used with appetisers, soups and a range of desserts.
Another interesting product in Pelwatte's range is its Garlic butter, which is unique in taste and widely used for the recipes such as garlic fried rice, bread and etc. The brand expects to launch peanut butter in the future as well.
"As Pelwatte is a home-grown dairy brand, we have always tried to take a natural approach in the production process. As a brand we proudly stand for our contribution to help the island nation to reach self sufficiency in milk, we are now working on full swing to reach this target in the post COVID landscape, where local produces are gaining momentum. Our brand is known for its unique and first of its kind products and flavors in the market. As such they have been creating value for both its home and industrial use," stated Akmal Wickramanayake.
Pelwatte Dairy is committed to uplift the standards of not just the dairy industry but also industries that we can directly or indirectly support as well. The culinary industry is a huge market for Pelwatte. As such, Pelwatte produces both salted and unsalted butter varieties, and is sold in both home-sized and bulk packs, which can be used Pelwatte Butter is the cheapest high-quality butter in the local market.
Pelwatte butter is produced using the fat from locally sourced milk, is high in nutrients and healthy as well. Pelwatte Butter is used in the bakery products including cakes. Butter Cream, French Butter Croissants, Danish Pastries and varieties.
The most stringent quality standards are followed during production while no artificial preservatives etc. are added to increase shelf-life. Therefore Pelwatte can be considered as one of the healthiest products for consumers of all ages.
Last year Pelwatte Dairy Industries Ltd, extended its support to the Culinary Art and Food Expo 2019 (CAFÉ 2019) for the second consecutive year as Gold Sponsor of the event.
The dairy brand which is preparing to export 'Made in Sri Lanka' butter and milk powder, sees enormous potential to develop the local dairy industry.