Coca-Cola Sri Lanka's Material Recovery Facilities and Water Replenishment projects wins awards at the at the 'Best Corporate Citizen Awards 2022'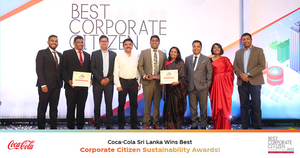 Coca-Cola Sri Lanka was awarded under the 'Best Sustainability Projects' category for its 'Material Recovery Facilities (MRFs): Revolutionizing waste management in Sri Lanka' and 'Access to Water for Agriculture and Livelihoods for women in the Moneragala district' (WALK) projects at the eagerly-awaited 'Best Corporate Citizen Awards 2022'. Organized by the Ceylon Chamber of Commerce, the prestigious awards recognize best practices of corporates relating to environmental, social, and economic sustainability while pursuing corporate goals.
MRFs is a unique initiative recognized for the first time, and is a highly valued award for Coca-Cola Beverages Sri Lanka (CCBSL) which established the country's first-ever comprehensive MRFs; a community-centric, replicable and sustainable model providing a ground-breaking solution to key waste management issues identified in Sri Lanka.
Commenting on the accolade, Thamari Senanayake, Director – Public Affairs, Communications and Sustainability (PACS), CCBSL said, "This award recognizes the value of our MRFs project. Waste collection has been a significant issue for Sri Lanka, with a wide gap between the amount of waste generated and the amount collected and disposed of responsibly. CCBSL provided waste collection and processing infrastructure for the MRFs and collaborates with them to create awareness amongst communities on responsible disposal, value, and recycling of waste. The MRFs were successful in establishing an efficient recyclable waste collection mechanism and generating viable earnings for collectors, through paying double their usual rate, leading to an increase in recyclable waste collection and recycling in Sri Lanka. Our recycling partner, Eco Spindles Pvt Ltd., has supported us immensely in implementing this project and manufactures value added goods from PET waste collected by the MRFs, including bristles for brooms and brushes, and yarn for garments."
MRFs collect, buy-back and process many types of post-consumer waste for recycling. Established in Ratnapura (Go Recycling Hub) and Wadduwa (Eko Plasco), the two MRFs are operated very successfully with dedication and commitment by two young local entrepreneurs, who have helped upscale recyclable waste collection in their areas. The initiative is supported by a network of 350+ waste collectors, creating livelihood opportunities for vulnerable communities, including women and persons with disabilities. 257,000+Kg of recyclable waste has been collected and 24,000+ people have benefitted through awareness sessions between January 2021 to September 2022.
The project contributes to Coca-Cola's 'World Without Waste' sustainability goal in Sri Lanka and the local waste management program 'Give Back Life' – To 'Collect and Recycle a Bottle for each one we sell by 2030'.
Coca-Cola was also awarded a 'Best Sustainability Project' Award for the second time for its 'Water Stewardship' initiatives through the W.A.L.K project, This project was funded by The Coca-Cola Foundation and implemented by NGO ACTED in collaboration with local Farmers Organisations. The project rehabilitated the Samurdhi water tank in Galahitiya village, Monaragala, enabling a replenishment capacity of 285,054 KL annually.
Lakshan Madurasinghe – Regional Lead: PACS Sri Lanka, Maldives, Nepal and Bhutan said: "Access to water plays a critical role in ensuring equitable and sustainable opportunities in rural communities where agriculture is the main livelihood. This project supports the pressing needs of farmers in the Monaragala District, Uva Province, which is the poorest region of Sri Lanka, with 15.4% of the population living below the poverty line. We are also happy that WALK has contributed to Coca-Cola Sri Lanka giving back twice the amount of water it uses for the production of its beverages, to communities and nature, surpassing its global goal to achieve water neutrality."
WALK has ensured that an additional 100 acres of paddy field can be cultivated during both the dry and wet season, as well as 150 acres for field crops such as maize and vegetables. Water pumps were also distributed to farmers as a mitigation measure to offset the impacts of periods of low rainfall, thus rendering the community more resilient to droughts, changing weather patterns and climate change. WALK improved the livelihoods of 1,769 farmers, including women farmers.
Coca-Cola Sri Lanka remains committed to its purpose to create a more sustainable and better shared future by making a difference in people's lives, communities and the planet by doing business the right way.