Pelwatte Dairy the leading local dairy brand debuts new products for consumers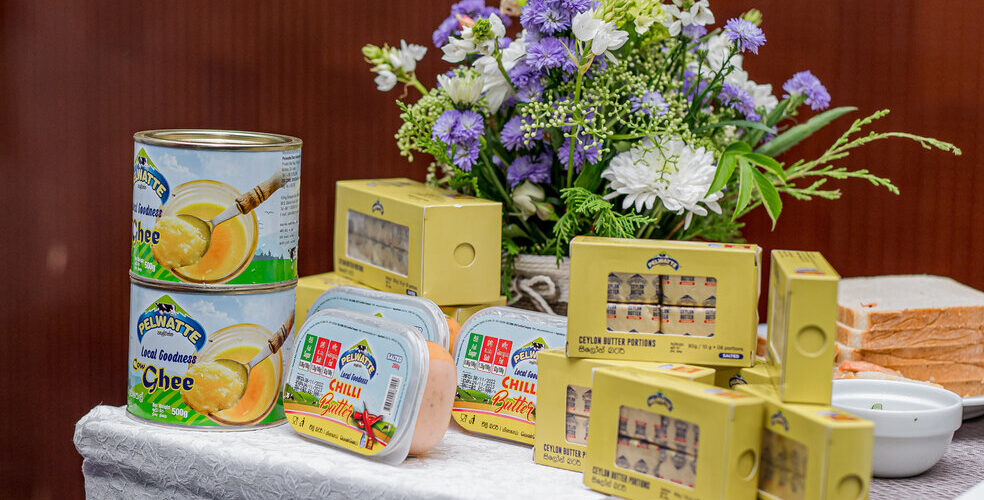 Pelwatte Dairy, one of the leading local brands in Sri Lanka that produces a range of dairy goods, recently debuted new products for consumer testing such as the 200g Pelwatte Chilli Butter, the 8 and 30-portion Pelwatte Ceylon Butter, and the Pelwatte Ghee 500g tin. The testing event was held at BMICH in the presence of the Chairman of Pelwatte Dairy, Mr. Ariyaseela Wickramanayake, together with invitees of the Staff of Pelwatte Dairy Industries Limited, Modern Trade (Supermarkets), General Trade (Distributors, Agents), and HORECA (Chefs).
Commenting on the event, The Chairman of Pelwatte Dairy, Mr Ariyaseela Wickramanayake said, "We are excited to debut these new dairy products to the market bringing our consumers' nutritional benefits along with them. With the current economic situation in our country, the 8 and 30-portion smart butter packs can be bought reasonably, and the debuted products will be introduced into the market at comparable prices in the coming year. Each and every one of these products are manufactured in a way to preserve the nutrients, giving priority to our new generation and being ready to provide suitable milk products for all our consumers' needs. We also make certain to pack the products in a way that suits the concessional amount."
Pelwatte Dairy's main goal for debuting these products was to provide its consumers with the chance to access high-quality products that taste wonderful, require little effort to prepare, go well with meals, and are affordable. The Pelwatte Chilli Butter is a high-fat dairy product that increases the appetite to consume food and helps boost health. It uses fresh farm-produced cow milk with Dairy Fat, Edible Salt, Fried Natural Chilli Powder, and Fried Natural Chilli Flakes, and it debuted at the event for consumers in a 200g butter cup. Pelwatte Dairy decided to debut this new butter range during this event, especially for those who enjoy a good blend of buttery spice and saltiness. The Pelwatte Chilli Butter, adds a really flavourful chilli note to Pelwatte's already creamy and tasty butter, and it is an absolute delight to the consumers who desire a twist in their meal.
Pelwatte Dairy also debuted 2 portion sizes at the event for their currently existing Pelwatte Ceylon Butter in addition to the Pelwatte Chilli Butter. It was provided to consumers for testing in two of the three-size packs, 30 portions, and 8 portions smart packs. Pelwatte Ceylon Butter is packaged as a 10g portion and wraps is produced in small batches using high hygiene and fresh local dairy cream. 82% Pure Sri Lankan Dairy Fat, less than 16% Moisture, less than 16% Milk Solid Non-Fat, and less than 1.35% Salt are the primary ingredients of Ceylon Butter.
The 500g tin of Pelwatte Ghee that also debuted at the testing event is exclusive in quality and promises fresh farm produce deliciousness, it's made from pure milk fat and fresh cream and has a typical rich aroma with a granular texture. Pelwatte Dairy's freshly derived Golden Ghee is all forms of silkiness, packed with freshness and no-added preservatives, and it has 99.5g of Fat and 0.5g of Moisture.
Whether it is sweet or spice, there is something for everyone at Pelwatte. This is why there are many admirers and advocates of the brand. This is also the motivation behind Pelwatte's mission of self-sufficiency. It's not just about dairy alone, but catering to everyone's tastes and cravings with it which is what makes Pelwatte an industrial leader and role model that other brands should follow.