IIT's first Virtual Careers Day 2020 brings together IIT students and Sri Lanka's top companies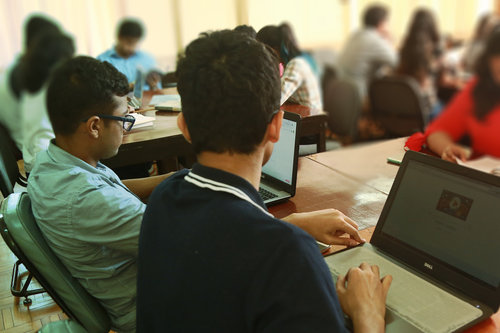 Informatics Institute of Technology (IIT), the pioneer in British higher education in Sri Lanka and the country's premier IT and Business campus, successfully conducted the IIT Careers Day 2020 on an online platform for the first time in its history. The transition to the online platform was in keeping with the need to conform to the health and safety regulations issued by the Government of Sri Lanka following the COVID-19 outbreak in the country.
Each year, the IIT Careers Day brings together Sri Lanka's leading ICT and non-ICT organisations, including local blue-chip and multinational companies, and presents them with the opportunity to meet many IIT undergraduates. The event is organized with the objective of providing a platform for IIT students to interact with these top companies, present themselves for interviews and secure one-year internship which is part of the IIT degree programme. Given the wide array of participating companies, IIT students are able to choose the companies that they'd prefer to commence their careers in while it allows the companies to interview some of the best ICT and business graduates in the country and employ the candidates ideally-suited for their various job requirements.
Held via Microsoft Teams, IIT Virtual Careers Day 2020 allowed companies to participate and interact with IIT students. Each company was given a time limit to present something about themselves to the audience while students had the opportunity to interact with the company and clarify any doubts after the conclusion of the presentation. Some of the leading companies that took part included Pearson Lanka, Dialog Ideamart, UniverSL Software, Econsulate, Auxenta, Vinota, Rootcode Labs, Infor Nexus Services, Omobio and Creative Software.
Sharing her thoughts on the latest IIT Careers Day, Naomi Krishnarajah – Dean of IIT stated, "Internship is an important feature for all undergraduate degree programmes at IIT. It provides real life exposure to the world of work where students harness their classroom knowledge with practical application and skills developed in a professional setting. The internship has the added advantage of developing professional contacts in pursuing a career in the chosen field. Amidst COVID-19 it was encouraging to witness over 50 companies participate at IIT Careers Day and provide insights into internship opportunities and what it entails. In addition, the alumni of IIT working in these companies being present and sharing their experience were valuable. On the whole it was a great success and I would like to take this opportunity to thank the companies, alumni, students and the placement team at IIT for all the efforts rendered towards the success of this event."
A representative from Pearson Lanka stated, "Even though the world is facing a pandemic, IIT did not allow this to affect or hinder their students' advancement in their respective fields. A highly-commendable Virtual Career Fair was organized and personally I did not encounter any glitches when it came to the organizing of the event by the campus. Congratulations on a job well done!"
A representative from Infor Nexus Services pointed out, "While many Universities and higher education institutes are not operating during the lockdown period it's good to see IIT is operating smoothly and was able to organize this career day backed by the latest technology to make sure the future manpower of the country are kept educated and hopeful. It was great to see so many students interacting and asking questions, and glad to know the students have interests in new technology areas which are in demand."
IIT was established in 1990 as the first private higher education institute that awards reputed British degrees in the field of ICT and Business. IIT is an award-winning campus offering internal postgraduate and undergraduate degrees from the University of Westminster, UK and the Robert Gordon University, UK. IIT has played a pivotal role in strengthening the IT and Business sectors in Sri Lanka over the years by producing world-class graduates. Since its inception in 1990, IIT has produced over 5,000 graduates who are now based in many countries around the globe. These graduates have gone on to become successful entrepreneurs and IT/Business professionals in both local and international corporate and government entities. They have played a pivotal role in empowering over 250 multinational and local blue-chip companies by holding key strategic positions while contributing immensely towards the growth of their respective organizations.
– ENDS –