PickMe can do more: Full fleet of 40,000 vehicles underutilised says CEO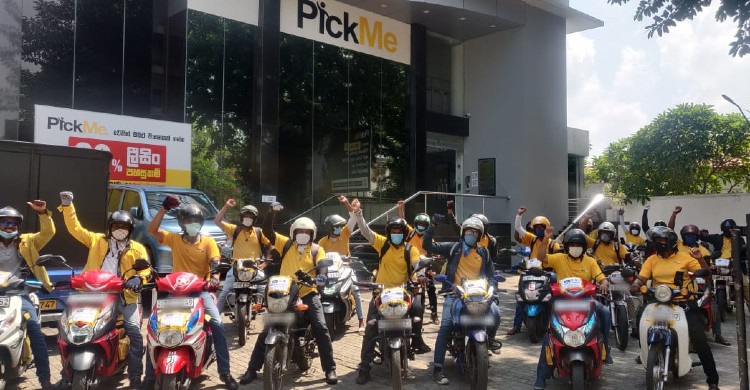 PickMe says its full fleet of 40,000 vehicles which is ready to be utilised for the delivery of essentials in the country is currently underutilised.
"Currently, we have the full strength of cars, three-wheelers, and motorcycles spread across the country on standby. We are right now working with about two thousand vehicles, with Sathosa and Litro Gas. We have already delivered to 22,000 homes in the last nine days, but the demand is growing and we are gearing to expand our network in some areas. We are also looking for vendors who can supply over 300 packs per day in household essentials to join our platform," says Zulfer Jiffry, CEO of PickMe.
The Taxi-hailing app company which is now operating in 7 districts which are Colombo, Kalutara, Gampaha, Kandy, Kegalle, Matale and Kurunagala, will also open up services to Galle and Matara soon.
Given the current situation, PickMe guarantees their adherence to the highest health and safety standards in handling the delivery of essentials. Instruction pamphlets are placed in every vehicle to educate drivers and passengers on COVID-19 symptoms, how it can spread and what preventive methods should be taken. They have also placed bottles of hand sanitizer in every vehicle.
PickMe has given a unique brand name to their delivery module as they believe this operation cannot be just an ad hoc reaction, but a well-structured system that will bring technology and personnel together to meet the needs of the city. "Our new endeavour is branded 'PickMe Delivery Balakaya' as we want those involved to know and feel they are a part of an important mission, which is to keep Sri Lanka safe," said Ajit Gunawardene, Founder Chairman of PickMe.
"This is a time where technology can become a great leveler and through the use of our app we can bring down the cost of deliveries as drivers on each ride would take as much as ten packs and using smart routing we can streamline the process. Delivery charges may be between 50 to 200 rupees," says the CEO of PickMe.
The CEO says that PickMe is the essence of being a truly Sri Lankan company that can understand the needs of the people. "Our operations are transparent and can be tracked by the authorities for health and safety reasons. All data regarding our drivers are with local authorities so they can take direct action in case of any misdemeanors."